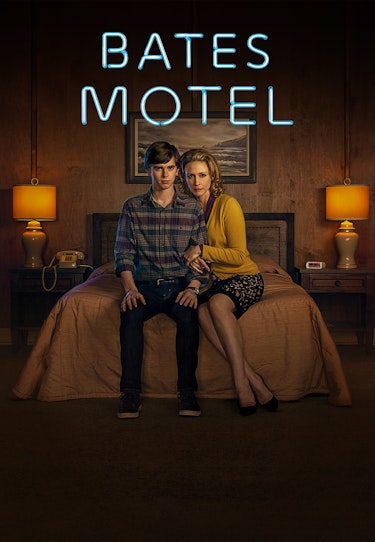 Skrekk-serien "Bates Motel" utspiller seg i moderne tid, og er en oppfølger til Hitchcock-filmen "Psycho". I serien følger vi den mørke bakgrunnshistorien og ser hvor dypt intrikat Normans forhold til sin mor er, og hvordan hun bidro til å skape den mest berømte seriemorderen av alle.
First You Dream, Then You Die
Widow Norma Bates and her shy teenage son, Norman, seek a fresh start in a coastal town filled with secrets. The arrival of an unexpected guest turns the Bates' lives upside down.
Nice Town You Picked, Norma...
Dylan immediately begins causing trouble. The Bates are drawn into the secrets surrounding White Pine Bay.
What's Wrong with Norman
Dylan learns there is more to his new job than he originally thought. Emma and Norman make a shocking discovery.
Trust Me
Norma deals with distractions as her suspicions grow about certain town residents.
Ocean View
Norma receives some much-needed help, while Norman desperately awaits his mother's return home. Emma and Norman follow more clues, leading to a big discovery.
The Truth
Dylan asks Norman to move in with him; Norma warns Emma that some things are best kept to themselves.
The Man in Number 9
The Bates Motel welcomes its first guest. Norman learns that popular girls come with many complications.
A Boy and His Dog
A mysterious stranger causes problems for Norma. Bradley is not happy when rumors spread at school. Dylan and Remo go on a fateful road trip. Norman takes up a grisly hobby.
Underwater
Abernathy increases the pressure. Bradley and Dylan connect. Miss Watson encourages Norman's active imagination. Emma takes a trip.
Midnight
Romero decides to take action. Norman takes Emma to the dance. Norman gets a ride home from Miss Watson.
Rollebesetning og mannskap